Jazz Guitar Virtuoso
Russell Malone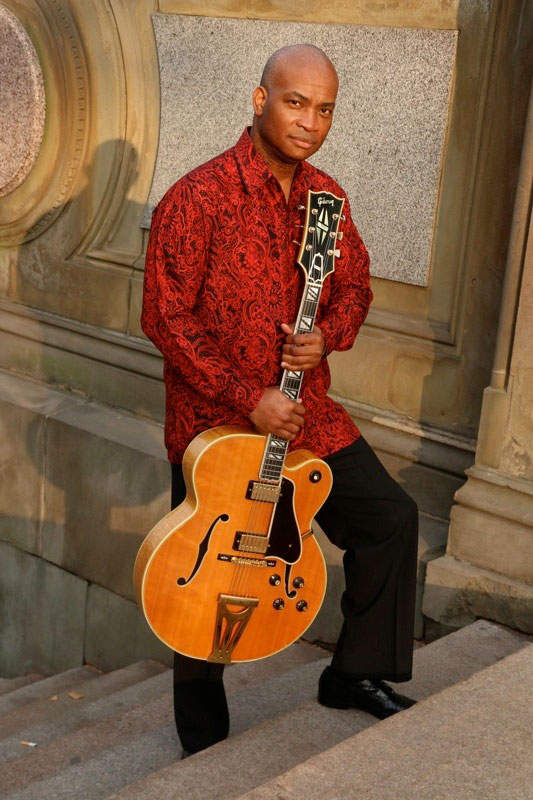 The Township Jazz Festival welcomes the Russell Malone Quartet
An adept jazz guitarist with a clean attack and fluid, lyrical style, Russell Malone often plays in a swinging, straight-ahead style, weaving in elements of blues, gospel, and R&B.
By his twenties, Malone was an accomplished performer, and in 1988 he joined organist Jimmy Smith's band. Soon after, he also became a member of Harry Connick, Jr.'s big band, appearing on Connick's 1991 effort Blue Light, Red Light. With his growing reputation as a sideman, Malone next caught the attention of pianist/vocalist Diana Krall, with whom he would work throughout much of the '90s and 2000s. Also during this period, Malone appeared with a bevy of name artists including Branford Marsalis, Benny Green, Terell Stafford, Ray Brown, and others.
Malone's self-titled solo debut, Russell Malone, in 1992 quickly went to #1 on the radio charts. This album has Malone playing Electric, Acoustic, and Classical guitars. It also features Harry Connick Jr. on piano, his current employer at the time. He has continued to release solo albums as well as record and perform with the biggest names in the industry.
---
The Guitar Summit
with the Joe Restivo Trio (Memphis), Barry Leach (Mississippi), and Russell Welch (New Orleans)
A special set featuring top musicians from the Southeast
Since our headliner this year is one of the most talented guitarists in the country, we decided to go "all in" on jazz guitar! This unique set will feature the Joe Restivo Trio from Memphis, an incredible group in its own right. They will be joined by Mississippi's top guitarist Barry Leach, whose range extends from delicate ballads to Hendrix-style jams. Rounding out the summit will be New Orleans' Russel Welch, known for his creative gypsy-jazz style. Don't miss this rare opportunity to hear a fascinating mix of styles and talents!
---
2023 Lineup
A Grammy-winning guitarist, top talent from Memphis and New Orleans, and the best local talent in Mississippi
11:00 a.m.
Welcome by Mayor Gene McGee, Ridgeland
11:05 - 11:35
Madison Central H.S. Jazz Band
This big band wowed the crowd last year and were invited back for an encore
11:45 - 12:25
The Mississippians Jazz Ensemble
Ole Miss' jazz band celebrating 100 years, an 18-piece big band under the direction of Dr. Michael Worthy
12:40 - 1:20
MS National Guard 41st Army Band
Swingin' in the USA, back by popular demand!
1:35 - 2:20
The Raphael Semmes Quartet
Festival co-founder takes the stage with his popular ensemble
2:30 - 3:15
The Vamps
Mississippi's premier soul jazz group
3:30 - 4:30
The Guitar Summit
with the Joe Restivo Trio (Memphis), Barry Leach (Mississippi), and Russell Welch (New Orleans)
5:00 - 6:10
The Russell Malone Quartet
Featuring one of the top guitarists in the country
6:20 - 7:00
Southern Komfort
Funky brass band and a parade finale!
---
About the Event
After COVID-related delays and rescheduling in 2020 and 2021, the event returned to its traditional April schedule in 2022. The 15th annual festival was the biggest yet! Check out the recap from WAPT:
Over the past 15 years, the event has gained a reputation as one of the best family-friendly music events in the state – and the only music festival in the Jackson metro area dedicated exclusively to jazz!
Our formula is simple: offer a full spectrum of jazz artists (from national recording artists to local up-and-coming professionals and students) in a safe, clean environment, all for the low, low price of FREE! That's right: our festival is free to the public (thanks to the contributions of our wonderful corporate sponsors, like title sponsor Morgan White Group).
Covered seating will be available; blankets and lawn chairs welcome (no tents). Food and beverage vendors will be on site (no coolers, please).
---
Festival History
The Jazz Festival is the brainchild of Raphael Semmes (a mainstay in the metro music scene for decades) and Tripp Douglas (owner of Fusion Coffeehouse). After three years of hosting top-notch live jazz sessions at Fusion Coffeehouse, the crowds were easily overwhelming the small venue. So the logical next step was to take it "outside the box."
It took more than two years to get the event off the ground, but the big break came when Kerioth Corp. (developer of The Township at Colony Park) threw their weight behind it. And the event couldn't have happened without the support of the dozens of local sponsors.
The inaugural festival in 2008 was a huge success, with over 1,000 people enjoying jazz in the sun on May 30, 2008.The crowds continued to grow as subsequent festivals featured headliners like Mose Allison, Jason Marsalis, Delfeayo Marsalis, Ezra Brown, Astral Project, Benny Golson, Eddie Henderson, and Nicholas Payton.
Now in its second decade, the event is known as one of the premier family-friendly spring events in the Jackson metro area.
---
Sponsorship Opportunities
For more details on the Township Jazz Festival and sponsorship opportunities email Tripp Douglas at Fusion Coffeehouse or call (601)-856-6001.
---