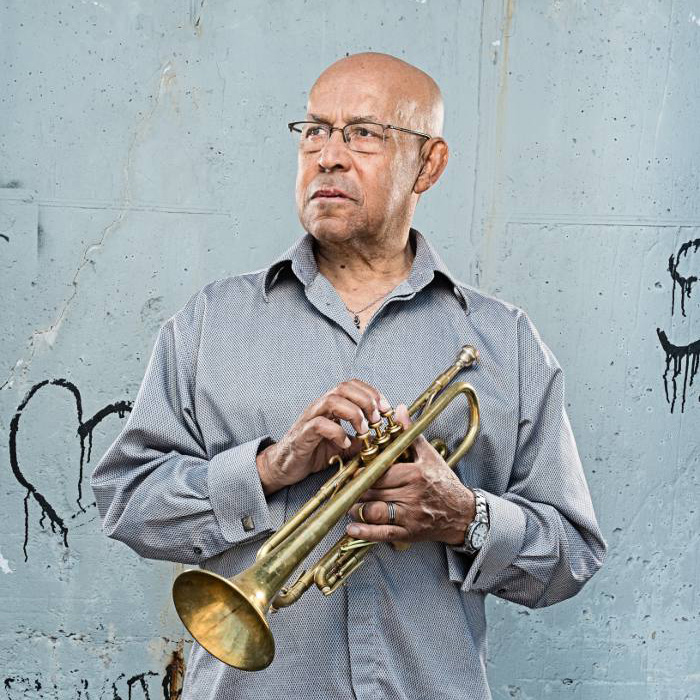 The Township Jazz Festival is excited to welcome a pillar of the jazz community!
Jazz trumpeter extraordinaire Eddie Henderson received his first informal lesson on the trumpet at the age of 9 from Louis Armstrong. Miles Davis, a family friend, admired the strikingly beautiful tone and musicality of Henderson's trumpet playing and has been a major musical influence on Eddie throughout his life. He received his first major musical exposure as a member of Herbie Hancock's trailblazing Mwandishi sextet, an ensemble that also included young innovators such as Bennie Maupin, Julian Priester, Buster Williams and Billy Hart. After leaving Hancock, the trumpeter worked extensively with Pharoah Sanders, Norman Connors and Art Blakey's Jazz Messengers. Eddie returned to the San Francisco Bay Area in 1975 where he joined the Latin-jazz group Azteca and fronted his own bands. Eddie has also performed with such notables as Dexter Gordon, Roy Haynes, Jackie McLean, Joe Henderson, Elvin Jones, Johnny Griffin, Slide Hampton, Benny Golson, Max Roach and McCoy Tyner.
---

Mississippi native Scott Johnson brings top talent from New Orleans
Before relocating to New Orleans, saxophonist Scott Johnson was featured on the Fusion Coffeehouse Jazz Series and previous editions of the Township Jazz Festival. This year he returns home with top talent from the Big Easy performing a tribute set to one of the greatest jazz legends of all time.
---

A legend from California and top talent from New Orleans alongside some of the best local talent in Mississippi.
11:00 am
Welcome by Mayor Gene McGee, Ridgeland
11:05 - 11:45 am
The Raphael Semmes Quartet with Pam Confer
Led by the 2021 Governor's Arts Awards "Cultural Ambassador"
12:00 - 12:45 pm
The Vamps
Mississippi's premier soul jazz group led by guitar virtuoso Barry Leach
1:00 - 1:45 pm
Thomas "Tiger" Rogers
Multi-talented saxophonist, writer, and publisher
2:00 - 2:45 pm
The Coltrane Legacy Project
Top musicians from New Orleans perform a tribute to one of the pillars of jazz (featuring Mississippi native Scott Johnson)
3:00 - 4:00 pm
Eddie Henderson
From California: Legendary trumpeter, understudy of Miles Davis, and collaborator with Herbie Hancock
4:15 - 5:00 pm
Southern Komfort Brass Band
Mississippi's favorite big brass band closes out the festival with our traditional march through the Township to the steps of Fusion Coffeehouse.
---

After going "virtual" for 2020 and delaying our 2021 event to the fall, we are excited to get the live festival back on track!
Over the past 13 years, the event has gained a reputation as one of the best family-friendly music events in the state – and the only music festival in the Jackson metro area dedicated exclusively to jazz!
Our formula is simple: offer a full spectrum of jazz artists (from national recording artists to local up-and-coming professionals and students) in a safe, clean environment, all for the low, low price of FREE! That's right: our festival is free to the public (thanks to the contributions of our wonderful corporate sponsors, like title sponsor Morgan White Group).
Covered seating will be available; blankets and lawn chairs welcome (no tents). Food and beverage vendors will be on site (no coolers, please).
---

The Jazz Festival is the brainchild of Raphael Semmes (a mainstay in the metro music scene for decades) and Tripp Douglas (owner of Fusion Coffeehouse). After three years of hosting top-notch live jazz sessions at Fusion Coffeehouse, the crowds were easily overwhelming the small venue. So the logical next step was to take it "outside the box."
It took more than two years to get the event off the ground, but the big break came when Kerioth Corp. (developer of The Township at Colony Park) threw their weight behind it. And the event couldn't have happened without the support of the dozens of local sponsors.
The inaugural festival in 2008 was a huge success, with over 1,000 people enjoying jazz in the sun on May 30, 2008.The crowds continued to grow as subsequent festivals featured headliners like Mose Allison, Jason Marsalis, Delfeayo Marsalis, Ezra Brown, and Astral Project.
Now in its second decade, the event is known as one of the premier family-friendly spring events in the Jackson metro area.
---

For more details on the Township Jazz Festival and sponsorship opportunities email Tripp Douglas at Fusion Coffeehouse or call (601)-856-6001.